Tear Trough Implants  
What are Tear Trough Implants?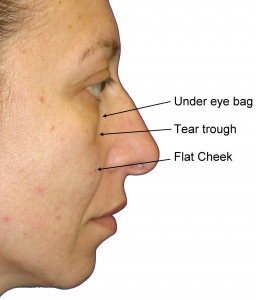 Tear trough implants are used in a procedure done to correct a condition known as tear trough deformity.
As we age, we tend to lose volume and elasticity in our facial skin. When this happens, skin sags and in some cases, there is a kind of herniation of the infra orbital fat pads. This herniation often makes the groove between the eyes and cheek more pronounced. Tear trough deformity is therefore the depression of the medial lower eyelid where it meets the cheek. 
With aging, the appearance of hollow, dark circles become deeper, longer and runs down and out into the cheek. For some people it is a small groove and for others it is extremely deep. The condition tends to worsen with age and is often hereditary.
Tear Trough Implant Surgery
Tear trough implants are made of silicone – a soft rubber-like material that is inserted through a small incision and placed over the bone mass under the eyelid to augment its shape and create a more youthful appearance.
Oculoplastic surgeon Dr. Amiya Prasad, M.D. performs tear trough implant surgery by means of a transconjunctival incision method. The implants are placed inside by way of a small laser incision on the inside of the eyelid. By using this advanced surgical technique, there are no visible signs of scarring because there is no incision made on the outside of the eyelid. Transconjunctival tear trough implant surgery has a quicker healing time post-surgery than less effective surgical techniques and leaves no change to the shape of the eyelid.
Let us help you to regain a natural and youthful appearance so you can face the world – looking your best! Please note, that we have several members of our staff who are fluent in Spanish should this be desired.
Contact any of our offices to set a consultation with Dr. Amiya Prasad. Our staff will be happy to assist you with hotel accommodations and travel arrangements in New York City or Garden City, New York if needed. Please note, that we have several members of our staff who are fluent in Spanish should this be desired.
Schedule An Appointment Today!
To schedule a consultation with Dr. Prasad to determine the best procedure for you, submit the form below or call our Manhattan office at (212) 265-8877 or Garden City Long Island Office at (516) 742-4636. Our phones are open 24 Hours a Day / 7 Days a Week.