Treatment for Under Eye Bags and
Hooded Eyes by Dr. Amiya Prasad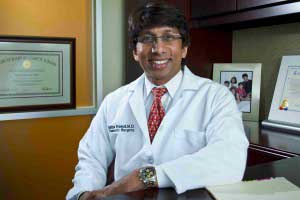 Dr. Amiya Prasad is an expert in eyelid surgery with extensive experience treating under    eye bags and hooded eyes. Performing eyelid surgery for over  20 years, he is board certified and a fellow of The American Society of Oculofacial Plastic and Reconstructive Surgery (ASOPRS). This means that he has special training in eye microsurgery as well as in cosmetic surgery of the eyelids and the orbit (the bones that surround the eye).
People come from all over the world for Dr. Prasad's artistic approach to helping people with under eye bags as well as other cosmetic and reconstructive surgery of the eyes.  If you are tired of looking tired and frustrated with under eye creams and treatments which simply don't work, you will benefit from Dr. Prasad's expertise.
Eyelift Plastic Surgery for Puffy Eyes
Eyelift plastic surgery or blepharoplasty is an art. Choosing Dr. Prasad who is considered by many to be one of the best eyelid surgeons practicing in Manhattan and Garden City, Long Island can help you say goodbye to drooping upper eyelids and bags under the eyes. For people of all ages under eye bags is one of the most common problems Dr. Prasad takes care of.  The area under the eyes is one of the most complex areas on the face for a cosmetic surgeon requiring expertise and experience with an artistic style. Take the next step and contact our office to learn more and schedule your consultation.
Click here for transcript.
Lower Eye Fat removal and Fat Graft (Re-draping)?
Hello.  I saw a plastic surgeon about eye bags.  He recommended a transconjunctival blepharoplasty with fat graft or "re-draping" as he often said.  He said he would cut a ligament and graft some of the fat down into the eye trough area to a bone somewhere around there.  He said just removing some fat would not completely help the eye trough.  Can you look at my pics and give your opinion as well?  And if you agree, how good have your results been with that procedure?  I want to do it but this is my first time.
Thank you for your question.  Asking if the procedure that your doctor recommends is advisable is likely to generate a whole lot of answers and a lot of conflicting opinions.  Essentially, in principle, I can tell you that as a specialist, that the concept of what the doctor wants to do for you is certainly reasonable and is within the standard of care of helping people with under eye bags.
Something that you have to appreciate that a lot of people don't fully understand is that cosmetic surgery is very much an art.  And when there is controversy, whether it's in eyelid surgery or facelifting surgery where people flock to one doctor because they do the deep-plane technique, or others tighten the muscle a certain way.  It's not the actual name of the procedure that matters, but how it's executed, when it's executed, and so these are things that are extremely variable between surgeons.  I've trained many doctors, and I can tell you that you can show another surgeon how to do something, but they are going to do it their own way.  It doesn't make them right, it doesn't make them wrong, what really matters are the results.
So overall, the procedure that is being considered for you is reasonable.  However, there are always things to be prepared for, and not every surgery goes perfectly.  So as much as you can take a survey of recommendations, and some may say that procedure doesn't work, or only works part of the time, and others will say absolutely, yes go that way.  If you feel that your surgeon is capable of doing the work, and has before and after pictures which you feel comfortable and confident with, then the decision is yours.  And whatever you do, just be aware that even in the best of hands, every surgery can have some potential, unforeseen issues.  It is not necessarily just the technique.  Patients come to me from all over the world with these concerns and problems.  Although some of them could have been avoided, a lot of times those things are not necessarily just the result of poor surgical technique, but rather the combination of circumstances and healing.  So based on this I'd like you to maybe get an additional opinion and be confident on your choice.  So thank you for your question and I hope that was helpful.
Joint Commission
We are proud to announce that our offices are certified by the Joint Commission, one of the leading accreditation bodies in the whole country. Read More…
For Patients of Dr. Stephen Bosniak
At the request of Dr. Bosniak's estate trustee, his sister to provide continuity of care for his patients. You may contact our office using the office number you are familiar with (212)769-0740. Dr. Bosniak was an innovator and highly regarded in the field of Oculofacial Cosmetic Surgery and we are honored to provide ongoing care for his clients.