Treatment for Under Eye Bags and
Hooded Eyes by Dr. Amiya Prasad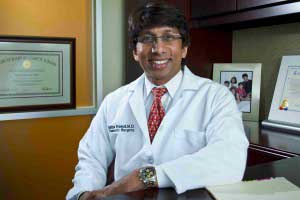 Dr. Amiya Prasad is an expert in eyelid surgery with extensive experience treating under    eye bags and hooded eyes. Performing eyelid surgery for over  20 years, he is board certified and a fellow of The American Society of Oculofacial Plastic and Reconstructive Surgery (ASOPRS). This means that he has special training in eye microsurgery as well as in cosmetic surgery of the eyelids and the orbit (the bones that surround the eye).
People come from all over the world for Dr. Prasad's artistic approach to helping people with under eye bags as well as other cosmetic and reconstructive surgery of the eyes.  If you are tired of looking tired and frustrated with under eye creams and treatments which simply don't work, you will benefit from Dr. Prasad's expertise.
Eyelift Plastic Surgery for Puffy Eyes
Eyelift plastic surgery or blepharoplasty is an art. Choosing Dr. Prasad who is considered by many to be one of the best eyelid surgeons practicing in Manhattan and Garden City, Long Island can help you say goodbye to drooping upper eyelids and bags under the eyes. For people of all ages under eye bags is one of the most common problems Dr. Prasad takes care of.  The area under the eyes is one of the most complex areas on the face for a cosmetic surgeon requiring expertise and experience with an artistic style. Take the next step and contact our office to learn more and schedule your consultation.
Joint Commission
We are proud to announce that our offices are certified by the Joint Commission, one of the leading accreditation bodies in the whole country. Read More…
For Patients of Dr. Stephen Bosniak
At the request of Dr. Bosniak's estate trustee, his sister to provide continuity of care for his patients. You may contact our office using the office number you are familiar with (212)769-0740. Dr. Bosniak was an innovator and highly regarded in the field of Oculofacial Cosmetic Surgery and we are honored to provide ongoing care for his clients.