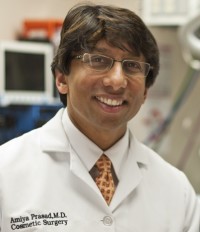 Oculoplastic surgeon Amiya Prasad, M.D. has performed thousands of cosmetic surgeries from eyelid surgery, facelifts, and body and extremity procedures, as well as non-surgical treatments for the eyes, complexion, body, and hair restoration. As an oculofacial plastic surgeon, Dr. Prasd is a super-specialist in cosmetic, reconstructive, revision, and specialty surgery of the eyes, orbit (area around the eyes), eyelids, and face. Dr. Prasad is well known for his natural-looking, artful aesthetic in eyelid surgery and facelifts. A graduate of The Mount Sinai School of Medicine in New York City, Dr. Amiya Prasad received his specialty training from top surgeons associated with The University of Texas in Houston and Galveston as well as The Baylor College of Medicine. He is a Fellow of the American Society of Ophthalmic, Plastic & Reconstructive Surgery (oculofacial plastic surgery) and The American Academy of Cosmetic Surgery. He is a Diplomate in Facial Cosmetic Surgery as well as Body, Breast and Extremity Surgery by The American Board of Cosmetic Surgery.
Dr Amiya Prasad's work has been featured on network television news programs including Good Morning America, CBS Morning News, Fox News, Channel 4's Live at 5, The WB11 Morning News, Channel 7's Eyewitness News, as well as cable news programs like News 12 and several leading magazines and websites. He has written many well-received articles in peer-reviewed journals.
Oculoplastic surgeon Dr. Amiya Prasad has been practicing in New York for more than 20 years. He teaches future surgeons at several institutions including SUNY Downstate Medical School, where he is an Assistant Professor, Manhattan Eye, Ear and Throat Hospital, Winthrop University Hospital and Nassau University Medical Center. He serves as Chief of Oculofacial Plastic and Reconstructive Surgery at Winthrop University Hospital in Mineola, Long Island. He also lectures and teaches colleagues regularly on facial cosmetic surgery, as well as specialized eyelid surgery through the international Fellowship program of the American Society of Ophthalmic, Plastic & Reconstructive Surgery.
Dr. Prasad has offices in Manhattan's Upper East Side and Garden City, Long Island.
A Leader in Cosmetic Eyelid Surgery
As often as you may read or hear "ask for a Board-certified plastic surgeon", there is no arguing that specialization, expertise and experience with a natural sense of artistry are the most important factors when choosing a cosmetic surgeon for eyelid surgery. General plastic surgeons are trained from head-to-toe, with no specific specialization when they receive Board-certification. This is particularly important in eyelid surgery, where the difference between success and complications are measured in mere millimeters. In fact, as a renowned oculoplastic surgeon specializing in complex eyelid surgeries, many of Dr. Amiya Prasad's patients come to him for revision (corrective) surgery due to previous unsuccessful surgeries performed by board-certified plastic surgeons.
Dr. Amiya Prasad's core values :


SAFETY, above all else.


Minimal discomfort and maximal comfort for every patient.


An efficient, supportive, and courteous attitude at all times, in order to maximize our patients' feeling of comfort and trust.


Thorough education and guidance of our patients to make informed choices about their cosmetic procedures.


Minimum downtime so patients can return to their normal lifestyle as quickly as possible, without compromising comfort or safety.
Choosing the Right Surgeon
As one of a handful of surgeons in the world with four specialty certifications, Dr. Amiya Prasad, MD has been performing eyelid surgery for over 20 years. He is recognized as a top cosmetic surgeon for eyes, and is often invited to teach colleagues his innovative approach to eyelid surgery.
Read Dr. Prasad's approach to facelift surgery.
Video: Dr. Prasad Talks About the Important Factors When Choosing a Cosmetic Eyelid Surgeon