What is an Eyelash Transplant?
An eyelash transplant is a surgical procedure that helps restore eyelashes for both cosmetic and reconstructive purposes. Originally, eyelash transplants were done for reconstructive purposes after trauma or skin cancer. Nowadays, people may also seek out an eyelash transplant for cosmetic purposes.
Although new treatments such as Latisse have helped many people who desire fuller eyelashes, there are many people who don't benefit from Latisse for a variety of reasons such as eye and skin sensitivity, and therefore are better off having an eyelash transplant.
Eyelash Transplant Procedure
Oculoplastic surgeon Dr. Amiya Prasad, M.D. performs eyelash transplant surgery using local anesthesia with LITE™ Anesthesia, using medicine such as liquid Valium, inserted intravenously. Patients are usually comfortable and unaware of the procedure being performed.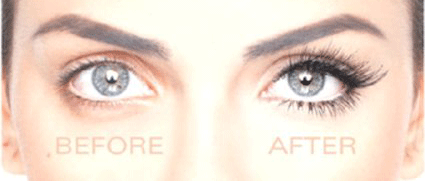 During an eyelash transplant procedure, hair from the back of the head is individually is extracted in grafts. Then transplanted onto the eyelid using advanced microscopic techniques. Eyelash transplants are very delicate and exacting procedures, wherein anywhere from 50 to 70 hairs are transplanted individually. Each hair is thoroughly cleaned before being transplanted by means of a sewing method.
After the procedure, patients should sleep with a soft protective goggles over the eyes for the first few nights. Strict maintenance is required for the newly transplanted eyelashes. Because the hair is taken from the back of the head, the transplanted hairs will continue to grow at the same rate as the hair on your head. Thus will need constant trimming to keep them at an acceptable length. In some cases, the transplanted lashes will also need to be curled, so that they are trained to grow upwards.
Eyelash Transplant Before & After Pictures
Before: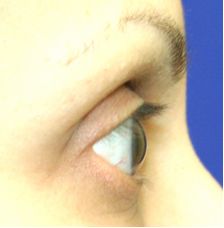 After: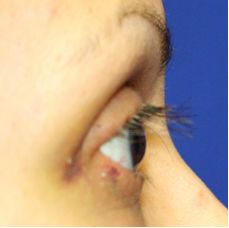 Eyelash Transplant in New York by Oculofacial Plastic Surgeon Dr. Amiya Prasad
With eyelash transplants, as in any hair restoration, a consultation with Oculofacial plastic surgeon Dr. Amiya Prasad will be the first step. The focus of the consultation will be to determine the cause of your eyelash loss before any surgical plans for eyelash transplants are made. It's important to know whether eyelashes have been lost from medical conditions that need to be addressed separately – such as hypothyroidism, or psychiatric illness – such as trichotillomania, where patients pull out their own hair. Medical conditions such as those will first need to be evaluated and treated.
Eyelash Transplant Risks
While it's possible to transplant lower lashes, there is a risk of a condition called trichiasis in which the eyelashes turn inward. When this occurs naturally, patients have to undergo surgery or the lashes will continue to irritate the eye, leading to infection and eventual blindness. Patients who wish to have their lower eyelashes restored through eyelash transplants are counseled about the greater risk and the need for caution.
Let us help you to regain a natural and youthful appearance so you can face the world – looking your best!
Contact any of our offices to set a consultation with Dr. Amiya Prasad. Our staff will be happy to assist you with hotel accommodations and travel arrangements in New York City or Garden City, New York if needed. Please note, that we have several members of our staff who are fluent in Spanish should this be desired.