Latisse Eyelash Growth treatment is an FDA-approved solution that is used to thicken and lengthen eyelashes, as well as treat hypotrichosis. It also works by increasing the number of hairs grown. Latisse Eyelash Growth has been clinically proven and the results of using it as directed by a physician are longer and fuller eyelashes.
Latisse Eyelash Growth Application
Latisse Eyelash Growth treatment candidates will receive detailed written instructions from Oculoplastic surgeon Dr. Amiya Prasad. Patients will learn how to apply the solution each evening to the base of the upper eyelashes to get the best results.
This FDA-approved eyelash treatment for hypotrichosis is available only by prescription. Instructions given by the attending physician ought to be strictly followed, to ensure proper administration of the solution. Patients will start to see results within four weeks of treatment with full results in four months. Now there is hope for people having scarce eyelashes to experience longer, thicker and darker eyelashes growth.
Reminders When Using Latisse Eyelash Growth Treatment
Remove contact lenses when applying latisse treatment.
Do not reuse applicators more than once.
Do not apply the solution on your lower lash line.
Do not apply the solution more than indicated on your prescription.
Make sure to apply the solution evenly on the upper eyelid margin at the base of the eyelashes.
When applying treatment, make sure the face is clean and any makeup is thoroughly removed.
Make sure to blot off any excess with a tissue or cloth, as it can affect other areas that the solution may have touched.
Latisse Eyelash Growth Before and After Photos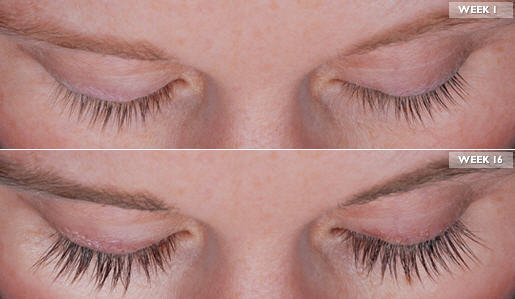 Latisse Eyelash Growth Consultation
Contact us now or call Dr. Amiya Prasad's offices in Manhattan, New York City at 212-265-8877 or Garden City, Long Island at 516-742-4636 to find out if you are a candidate for LATISSE eyelash growth treatment.