Many people suffer from puffy bags, loose skin and sagging tissue on the lower eyelids. The problem arises when the membrane under the lid becomes weaker with age and allows the fatty protective tissue around the eye to bulge forward. This pressure on the skin and muscles of the lower eyelid stretches them and causes noticeable puffiness or bags to form under the eyes. In addition to that, fatty tissue also tends to hold water. That's why, in the morning, after you've reclined all night, eyelids may appear at their puffiest.
While these symptoms are usually seen in much older people, they can also be inherited and begin showing up as early as adolescence.
Two Methods for Lower Eyelid Blepharoplasty Procedure
Transcutaneous Lower Eyelid Blepharoplasty (Lower-Lid Incision)
Many surgeons approach lower eyelid blepharoplasty for eye bags by making an incision through the skin, just below the lash line. This provides access to the underlying tissue so that fat can be manipulated and excess skin can be tightened. Depending on the skill of the surgeon, no scar should be visible after the procedure. However, patients with darker skin may experience darker pigmentation along the incision line. This type of procedure requires precise delicacy and careful manipulation of the tissues in the lower lid, lest they become damaged.
Lower Eyelid Transconjunctival Blepharoplasty (Inside-the-Lid Incision)
This procedure refers to the reduction and sculpting of the fat pockets from behind the eyelids. With this type of procedure, the incision is made inside the eyelid. This incision offers clear benefits: There are no outside scars, and the shape of the eye is typically better preserved. It is also one of the least traumatic surgical procedures that can be performed to the fragile support network that must maintain the integrity of the eye.
What is Involved in Lower Eyelid Blepharoplasty for Eye Bags?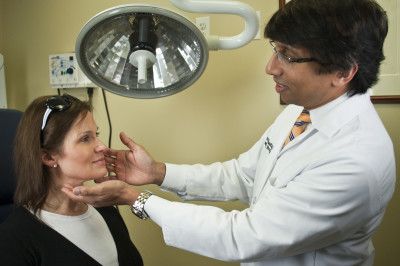 The lower eyelids are both a complex and delicate structure which, for optimal results, require experience and technical expertise that are outside the training of most general plastic surgeons and facial plastic surgeons.
In lower eyelid surgery procedures, fatty tissue is precisely removed or re-positioned, usually using a transconjunctival approach. This means that the surgery is performed through the inside part of the eyelid so that no external visible scar is created. If excessive skin or muscle folds are found below the eye, an incision may also be made just below the base of the lashes. As this incision heals, the fine scar should be barely visible.
Oculoplastic surgeon Dr. Amiya Prasad, M.D. believes in a personalized approach to every case. There is no such thing as one standardized approach for all cases, no matter how similar they are. Upper and lower eyelid surgeries are performed under local anesthesia or light sedation in our state-of-the-art office suites. Dr. Prasad has developed LITE™ anesthesia to make sure his patients are comfortable during the procedure. This approach includes both local anesthesia and intravenous or IV sedation with medications such as liquid valium. Dr. Prasad's expertise, artistry and surgical skills combined with his LITE™ anesthesia allows for minimal downtime.
See real lower eyelid surgery photos performed by Dr. Amiya Prasad.
Does Eye Bag Creams or Lotions Work?

Oftentimes, people will turn to topical creams and lotions to get rid of their eye bags. The reality is that eye bag removal is just not possible with creams and other non-surgical treatments. Eye bags which don't get better with sleep or allergy treatment are caused by fat which bulges forward under the eyes. These alternatives may make the skin look smoother, but keep in mind that if the underlying cause of the puffiness comes from inside the eye, then these creams and lotions are likely to not be able to do much to solve that problem.
A sure way to eliminate the sagging, billowing and festooning bulges around the eyes is by means of lower eyelid blepharoplasty. Wanting to avoid surgery for eye bags is only natural, however for most people, the only solution for eye bags is eyelid surgery or lower eyelid blepharoplasty.
Dr. Prasad is one of the most sought after eyelid surgery specialists with over 20 years of experience in performing blepharoplasty (upper and lower eyelid lifts), and has dedicated his career to help people get rid of eye bags in a safe and comfortable way.
Temporary vs Long Term Fix for Under Eye Bags
Lower Eyelid Blepharoplasty Recovery Can be Faster and Safer When Performed by Specialist
---
Featured Video: Dr. Amiya Prasad and "Queen of the Arch" Eliza Petrescu featured on "The Ultimate Guide to Beautiful Eyes"
Lower Eyelid Drooping After Blepharoplasty – How to Correct
What are the Possible Lower Eyelid Blepharoplasty Complications?
Eyelid Surgery for Eye Bags Can Help Restore Your Confidence
Feeling good and looking good go hand-in-hand. The time is now to look and feel your best – with the specialized personal attention from an expert eye plastic surgeon who can help you show off the real you! Fill up our contact form or contact any of our offices to set a consultation with Dr. Amiya Prasad. Our staff will be happy to assist you with hotel accommodations and travel arrangements in New York City or Garden City, New York if needed. Please note, that we have several members of our staff who are fluent in Spanish should this be desired.