What is an Eyebrow Lift?
A brow lift, also known as an eyebrow lift or forehead lift, is the surgical raising of the brow line to reduce the appearance of lines and wrinkles, to restore a firmer, more youthful appearance to the upper portion of the face.
The procedure tightens loose skin, minimizes forehead wrinkles, and corrects a certain amount of drooping in the eye area. A brow lift is an effective part of facial rejuvenation, and is effective in bringing focus to the beauty of the eye area.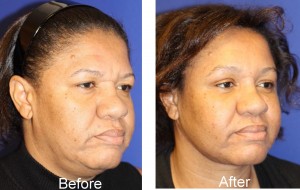 Types of Brow Lifts
Endoscopic Eyebrow Lift/ Endobrow Lift
With endoscopic brow lift surgery, about 4-6 small incisions (about half an inch in length) are made within a person's hairline. A tiny camera, about the size of a pencil's eraser tip, is inserted under the skin so that the surgeon can survey muscles responsible for creating the deep furrows and surrounding tissue.
The treated muscles and tissues are then secured; the skin is shifted backward to achieve a more youthful look; and then the opening is finally sutured closed. Though an endoscopic lift requires less recovery time, patients should expect minor swelling and bruising around the forehead, cheeks and eyes.
Trichophytic Brow Lift/ Coronal Lift
A trichophytic brow lift uses a type of incision beneficial for people at risk for hair loss, or who may look older with a larger forehead. Past brow lift techniques could actually make people look older because of larger foreheads and/or shorter hairlines.
To avoid enlarging the forehead and minimizing hair attrition, a trichophytic incision is used to allow hair growth through the scar, which also makes the surgical incision virtually unnoticeable, even with a short haircut.
The incision creates an irregular, zig-zag line, instead of the normal straight incision that is used in regular coronal brow lifts. The incision is placed just behind the hairline and is done only under the skin, as opposed to the deep tissue placement like various older brow lift techniques.
Temporal Brow Lift
Temporal brow lifts are done by creating small incisions on the temple region of the forehead. These types of brow lifts last for about 3-4 years, and are more ideal for older patients who prefer not to undergo the extensive surgery required for endoscopic and trichophytic brows lifts.
How is an Eyebrow Lift Done With and Without Surgery
Frequent Questions and Concerns About Eyebrow Lifts
Do I need an eyebrow lift?
Deciding if you need an eyebrow lift is usually based on whether the eyebrows have become lower than when you were younger. If you've noticed that your eyebrows have gotten lower with time, and you're getting lines in your forehead trying to keep your eyebrows lifted, you may be a candidate for an eyebrow lift.
Keep in mind that people with more pronounced brow drooping will benefit more from brow surgery than those that exhibit only subtle signs of aging. Regardless, Dr. Prasad can extensively evaluate your case to properly determine whether you are a candidate for a brow lift.
Can you lift eyebrows with Botox?
Yes, this is a procedure popularly known as Botox brow lift. We routinely perform Botox/Dysport injections to lift eyebrows, but there is a limit to how high the eyebrows will go using injectable neurotoxins alone. Many of our clients come to try this minimally invasive approach and are happy with their results. In any case, we will have an honest assessment of your case where we determine if your eyebrows are too low to be helped with injections alone.
How to Lift Eyebrows Naturally?
For many years, it was the opinion of many board-certified plastic surgeons that women and many need an eyebrow lift done along with other cosmetic surgeries. The results of this cookie cutter philosophy and approach are that many women walk around looking surprised and startled, while many men look feminine.
Oculoplastic surgeon Dr. Amiya Prasad takes an artistic approach in performing eyelid surgery and its surrounding areas, using his experience and judgment for the procedures that best enhance your natural facial characteristics, and not trying to hide them. Dr. Prasad always has balance, symmetry in mind when achieving natural-looking results, so patients look refreshed and revitalized, not surprised.
Contact any of our offices (Manhattan, New York City or Garden Island, Long Island) to schedule a consultation with Cosmetic Oculofacial Plastic and Reconstructive Surgeon Dr. Amiya Prasad.